The Itinerant Writing and Riding Life
by Liz Jansen

Today I'm taking a day off from writing and going riding! Actually I don't write every day, but most days. When I'm not putting words on paper, I'm digging into the past, and the present—both with their treasures and landmines.
As it turns out, it's fascinating to see that the major interests in my writing—culture, Indigenous wisdom, and riding—have all come together on a single December day. Even the weather looks like it's cooperating so I can tie them all together on my motorcycle on a 265 km/165 mile loop.
First up is a pre-op appointment at St. Mike's Hospital in Toronto in preparation for surgery on January 8th. The hardware that held my shoulder together after my crash at the beginning of Crash Landing's "research trip" is coming out to give me more mobility.
After that I'll ride to the Mennonite Central Committee offices in Kitchener to attend My Moccasin, an event in the Dancing to Reconciliation series where Indigenous men and women share their knowledge and stories. I'm eager to hear from Shirley Ida Williams nee Pheasant (Neganigwane) and even more fascinated to understand the history and the nature of the link between the two cultures. Ironically, there was a time not so long ago when the only connection between Mennonites and dancing was to turn and run the other way. How times have changed!
I mention these plans to illustrate how events are unfolding for me. My heart is taking the lead these days and even though I can't see the details of where this writing is taking me, people and experiences show up at just the right time to take me around the next corner. Most of my life I've tried to make things happen rather than allowing them to happen, but those patterns weren't working. This is a very different approach and at times scary with many unknowns, yet I'm continuously amazed, but not surprised, by the synchronicities that occur
December has already granted an extension on the riding season and the snow will soon be here. I'll make the most of it while I can before putting the bike away for the season.
---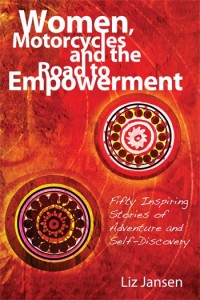 Master a motorcycle and you can master anything. The women in this book have confronted and overcome personal challenges, physical challenges, societal stereotypes, and cultural expectations. They're now embracing the freedom and independence of motorcycling. For many of them, it's been the catalyst for other long-awaited life changes. The book makes a great gift!  Purchase here.
It's always heart-warming to receive emails like this from a reader in New Zealand:
"Your book arrived safe and sound and I absolutely loved it! Couldn't stop reading, but I wanted to make it last so I limited myself to savouring only two stories a day. I could so relate to all the stories, woven into your own journey. I have only been riding for a year, but it is the best thing ever.  My husband is reading it now, he finds it fascinating as well. Thank you for writing Women, Motorcycles and the Road to Empowerment."  Angela