Planning Adventure Travel – 12 Weeks Pre Departure
by Liz Jansen
As incredulous as it seems, I'll soon be underway on an amazing road trip. It's been maybe 16 weeks since the seed was planted, and now only 12 weeks until departure. I know people plan these trips for years, but it's all come together fairly easily.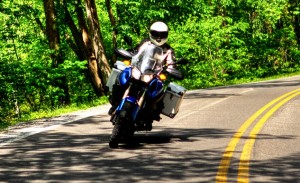 Here's an up to date progress report.
Health. I'm up to date on my immunization, with a few requirements yet to confirm. I've arranged travel insurance, no mean feat to sort out, but I have received excellent experience with MediQuote Brokers (for Canadians). There are so many variables to consider when selecting the right plan so this takes a great deal of research.
Visiting friends. There are local and eastern seaboard friends that I won't see for quite a while and I'll miss them. It's important to see them before I leave.
Riding skills. My plan is to stick to main roads, but the reality is, I need to be prepared for anything. After my little slide last summer, I need to enhance my gravel cornering skills and have booked a course later this month with the best – Clinton Smout.
Organizing work. This expedition is not a vacation or time off. I expect to be able to continue my work, almost as I've been doing. The only thing is I'll be traveling down the road while doing it. As much as I want to avoid overplanning, some discipline will be required to get work done, but a lot can be accomplished with a little planning.
Route. The overarching purpose of this trip is to visit Native North, Central and South Americanwisdomkeepers and sacred sites, exploring the theme of who we are before we're told who we are. As the subject of my next book, I'm honored to explore this earth-based indigenous wisdom that is tens of thousands of years old. While my exact itinerary will flex, I have some data points to work with:soon

Calgary AB area – Mennonites and Blackfoot Indians
HUBB Nakusp – Aug. 21-24 – Speaking
Tribal elders in WA
HUBB Yosemite – Sept 18 – 21 – Speaking
Joshua Tree Retreat Center, CA. – October 25-31
Peru – Sacred Valley
Chile

Language. Spanish lessons started in early February, and although I started with great gusto, I let up quite a bit in March while preparing for Power of the Road. I'm back at it though, and thoroughly enjoying it. I've recently learned of DuoLingo, a free app which is fantastic, possibly even better than the program I paid a lot of money for. If you're thinking of learning a new language, check it out.
Bike accessories. Traveling in faraway lands where availability of service and parts is unknown, it's prudent to be more cautious. I've ordered engine guards and a skid plate for added protection and will install as soon as they arrive..
Will. Its occasions like these that prompt you to address these kind of things. I've always had one, but it became invalid with my divorce and I've never revisited it.
House. I've given notice to my landlords that I'll be gone as of August 1st. This was one of the hardest concepts initially, but I'm OK with it now. I have no idea how long I'll be gone or where I'll return to, and it feels fantastic! They'll use this as a guesthouse and I'll supply the furniture while I'm away, pick it up when I return and it's a win for everyone.
Car. I've begun the process to sell it. I want to have that well out of the way before I leave.
There are still details to address, like camping gear, riding gear, and what to take, but it's a good start. I'm extremely grateful that I'm able to take this trip. While it's all part of my life's journey, it's a pretty darn exciting road ahead. Gifts are given to us to be shared. I look forward to sharing this with you.
PS: Let me know what you'd add.