The Power of Community
Built across from the Railway Station circa 1867 to give respite to travellers, the property at 109 Mill Street in Orangeville, Ontario, is again providing a shelter for a different era of travellers. It's a testament to what is possible when visionaries and the power of community come together.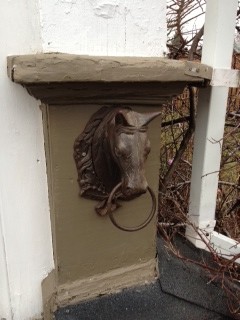 Once known as the Royal Hotel, the building became a private dwelling for many years before recently becoming Mary's Place, a transitional home for deserving youth.
It was a rocky start. Employed by Employment Canada in 1999 as a Community Development Officer to work with youth, Ila Sisson sought input from experts – the youth themselves. Through a series of community meetings, housing for homeless youth was identified as a critical need.
Unfortunately funding to the program was cut and it was disbanded. But the need was still there. Young people needed housing and an address if they were going to turn their lives around.
Enter the Power of Community
Ila and a group of dedicated volunteers decided to go for it on their own. Individuals and organizations wanting to help formed a Steering Committee. Someone donated a home, offering 10 beds in cramped quarters, staffed entirely by volunteers. "At the time, it was impossible to get funding as local government claimed there were no homeless youth,  even though they were living in the nearby forest or on rooftops," recalls Ila. "The community donated every bit of food, furnishings, linen, dishes and even toiletries."
From such meagre beginnings, the agency is now a thriving, structured not-for-profit organization and a highly regarded community leader. It operates two independent homes: Choices Youth Shelter a 20-bed shelter, and now Mary's Place with 7 transitional beds. Named in honor of Mary Vervoot, Executive Director of Choices, Mary's Place is a semi-independent supported program running as an extension of the shelter. According to Lisa DeZotti, Board Chair, "Mary has been the glue which has held it all together over the years."
Less than 30,000 people live in the Town of Orangeville. Annually, Choices Youth Shelter supports more than 200 youth, age 16-24, on a budget of less than $360,000. Approximately half the funding comes from local government. The balance comes through projects, fundraising events and private donations. Although a major fundraising plan is in the works, Mary's Place has been established through Choices' funding, without the support of any government agency, program or current donors. Members of the community have donated countless hours, resources and energy.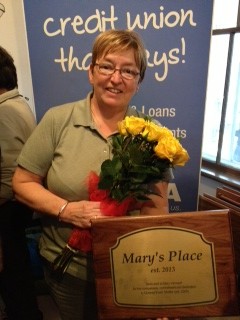 Choices' staff, under the vision, unstoppable drive and compassion of Mary, work with residents to resolve the legal, medical or family issues that brought them there in the first place. When those issues are taken care of and they're ready to leave the shelter, they're faced with formidable problems if they can't go back to their family.
They can't rent a place because they're too young and/or have a record, can't get a job because of a record, can't afford to stay in school and rent, can't afford rent with a part-time or minimum wage job. Welfare pays a limit of $607 per month for room, utilities and food; a typical room rents for $600. Severely limited choices make them vulnerable to lapsing into behaviors that got them into trouble. What are they supposed to do?
Mary's Place gives them a new opportunity. Here they will receive the support they need to integrate back as a productive member of the community.
Care, connection and relatedness are much needed in our world, and it has to start with each one of us. While Mary is the face and voice of the agency, and her energy and commitment are unquestionable, the collective community has come together in a most meaningful way.
It was an honor to be at the ribbon cutting ceremony this week, proud of those that have come together in a time and fashion many would deem impossible. We don't have to go to third world countries to make a difference. We can do it from our own back yard. Offering youth a new lease on life creates a better world for all.
How You Can Help
Choices is but one example of the need in small town Ontario. Every town has a similar need. Before you act however, contact your local shelter to find out how best to help locally.
There are many ways to contribute — from volunteering time, bringing in meals and donating materials or funds. The important thing is to do something.
Choices has made it easy by posting their wish list.