Power of the Road Conference Top 10 Lessons
by Liz Jansen
We all know that motorcycling changes lives. The theme of the Power of the Road conference was strength through balance, and as I interviewed each speaker, everyone had their unique life stories to demonstrate how motorcycling has played a difference in their life, and offered insights and tips we can apply to our own life.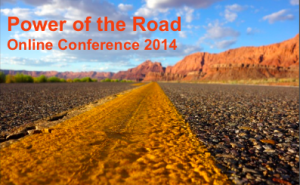 I noticed common themes in the messages. While each interview was rich with candor, stories and wisdom, and stands on it's own, I compiled a list of top 10 messages I took from the week, that will help me live the life I'm supposed to live, and accomplish what I'm here to do. I hope you find it useful as well. Over the coming weeks, I'll explore each in more detail.
Lesson #1: Listen to your restlessness.
Many speakers acknowledged a restless spirit that urged them to in a certain direction, often against the status quo. Even if they didn't realize it at the time, by listening to their spirit, which was seeking expression, they experienced pivotal moments, often not recognized as such until later.
Lesson #2: Be curious.
This is actually the #1 message from Allan Karl. We need to ask questions, wonder and think more about the world and people around us. When we're curious we're more open, we see, and we enrich our lives through the new things we can learn when we just look, wonder, wander and explore.
Lesson #3: Practice change.
Everyone advocated this. Push your comfort zone. Do something uncomfortable. It's the only way to grow.
Lesson #4: Be receptive to what your road delivers.
We have to be prepared to go down any road that we're on in life, even when it's a detour. Being prepared doesn't necessarily mean we'll immediately know how to handle each situation. Rather, it's traveling in a state of acceptance and receptivity.
Lesson #5: Use your gifts.
This covers a great deal of ground, including be yourself, use your unique talents and don't worry about what others think of you.
Lesson #6: Manage fear.
No one is immune from the presence of fear. Talk to any one of the speakers, and they'll tell you there are times they are terrified. What's different about these leaders, is that they've learned to manage their fear, walk through it as Debbie Evans says, and use its energy constructively.
Lesson #7:  Turn hardship into opportunity.
Who would think that a quadruple amputee could ride a motorcycle again – and legally!  How about being left permanently disabled from a near-fatal parachuting, but continuing to serve through motorcycling.
Lesson #8: Accept dares. Listen to messages from others.
Andrea Coleman says that the worst thing you can do to a social entrepreneur or a motorcyclist,  if you don't want something done, is to dare them, or tell them it can't be done.
Lesson #9: Learn from the past.
The past has so much to teach us, not just our personal past, but in those who have gone before—the wise elders in our midst and our past
Lesson #10: Focus.
Important at all times, it's particularly useful when moving through upheaval and times of change.  Staying focused on your goals and making sure all your choices align with that helps get you through the rough stuff.
Above all, Breathe!!  Breathing is always good to clear our mind of clutter and reconnect to who we are. It's especially important when the going gets tough. When we're out of balance, or the road we're on is under construction and the going is rough, take the time to breathe, get centered and grounded. When you get off course, find that thing you were meant to do and figure out a plan to do it.  There is a way. Then do it!