5 Reasons Why its Best to Buy Used Motorcycles for New Riders
by Liz Jansen
You've purchased the gear, learned to ride a motorcycle and are eager to get riding! While it's tempting to run out and get that brand new bike you've been dreaming of, there's a strong case for deferring that dream and purchasing a used bike to get started.
5 reasons for new riders to purchase used motorcycles
Discover your riding interests. Although you may have a good idea of your preferences, until you get riding, you're not sure of the bike that's going to be the best fit for the type of riding you enjoy. Even seasoned riders make mistakes. I hadn't kept up with new models when I decided to purchase a new bike after many years of riding standard models. I purchased a cruiser – not the right bike for the kind of riding I was doing – and ended up selling it within two years
Discover the riding position you're most comfortable with. A new rider who joined us on several tours purchased a used 500 Ninja as her first bike. Often, this is a great first choice and she loved the bike. However the relatively aggressive riding position aggravated a pre-existing shoulder injury, causing significant discomfort.  After trading it for another style with a more upright seating position, she's enjoyed many years of enjoyable riding.
Purchase something that's suitable for your skill level now. With regular practice, your skills and confidence will improve dramatically during your first season of riding. Then you can upgrade.
Understand it's going to tip over. Learning to manage the motorcycle can be harrowing for bikes. In the process, they get scratched, dinged and dented. It's painful to see that on any bike, but more so on one that has arrived in pristine condition. Buying a bike that's already earned its first memory scar saves you the worry of being the first.
Spend less. A used bike is already depreciated and you can get good value. There's a lot of choice in suitable previously loved bikes that have become available as their owners upgraded.
The biggest downside with purchasing used is that you don't know the history of the bike. Making the right decision will require more research, but it's a wise investment. It's like any relationship. You don't usually find the right match the first time. Learn about the bike, learn about yourself and be all ready for your new bike when the time is right.
Check out the New Rider Multi-Media Guide, crammed with information of value for getting started in motorcycling.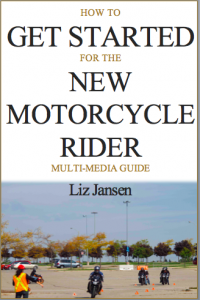 Related articles:
photo credit: ronsaunders47 via photopin cc