Restless Spirit
by Liz Jansen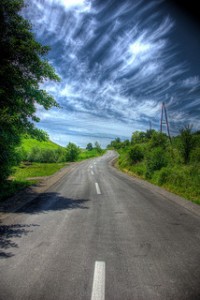 As I rapidly approach my 60th birthday, I carry an unmistakable sense of restlessness. It's not something that's uncomfortable or uneasy, just a sense that I need to be moving to stay in that place that is home.
It's not a physical place or even a geographical location. It's the feeling of following my heart, letting my intuition guide me, managing fear and pushing beyond my comfort zone. How else will I know what's there, and what I'm capable of?
This next leg of my Road will take me to parts unknown, and be a greater stretch than anything I've done. Here I thought we settled down with age!
"Listen to your restlessness," was a common theme of many speakers at the Power of the Road, and one of the Top 10 Lessons I took from it. Many speakers acknowledged a restless spirit that urged them to in a certain direction, often against the status quo. Even if they didn't realize it at the time, by listening to their spirit which was seeking expression, they experienced pivotal moments, often not recognized as such until later.
Andrea Coleman, Co-founder and CEO of Riders for Health left school at 16. Motorcycles, the lifestyle and the community around them were calling her, although little did she know where it would lead.
Scott Kress who has summited the world's tallest mountains was restless in school, worked in the ski industry for a while before moving to Outward Bound, a move which he calls life changing.
Allan Karl talks a lot about forks—often having to do with culture and cuisine, but even more often having to do with forks in the road, and following our spirit. He reminds us that at every fork in the road, is a new beginning.
Restlessness prompted Christa Neuhauser and her husband Christian to move from Austria to the United States, and then to begin publishing RoadRUNNER magazine, which has become the top travel and touring magazine in North America.
Carla King has been restless from way back. She talked about leveraging that restless and the fear that often tries to thwart it, to move forward and live the life of your dreams. That's how she's lived her life.
Rene Cormier packed up everything at 33 years of age, and spent most of the next 5 years traveling around the world on a budget of $25/day. It changed his perspective on life and added much meaning.
Paul Pelland recalls an Iron Butt ride on a Ural motorcycle as life-changing. It helped define who he was and shape his future. Although he had no idea at the time, that ride was instrumental in teaching him to deal with the Multiple Sclerosis he'd be diagnosed with a few years later.
And Lia Grimanis made a vow to herself as a homeless teenager that she would be successful. Pulling rickshaws became pivotal in climbing out of that situation and becoming a highly successful businesswoman.
I've learned that it's more uncomfortable to not listen to that restlessness, because it doesn't let up. More importantly, it's so enriching to surrender and follow that guidance. And so, I listen, enjoy the moment and know that I'm on the right Road, even if I don't see where it's leading.
photo credit: Mylos pics via photopin cc