10 Reasons to Ride Manitoulin Island
by Liz Jansen
Legend has it that when the Creator made Manitoulin Island it was so beautiful, He called it home. First Nations peoples have lived and traveled through here for thousands of years. It's such a special land, in the Ojibway language it's referred to as Spirit Island. That in itself is a reason to plan a few days to truly experience and ride Manitoulin.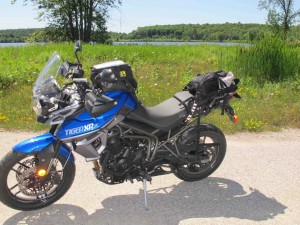 Geologically, its part of the Niagara Escarpment, formed from a process that began 400 million years ago. The escarpment begins at Niagara Falls, extending north to the Bruce Peninsula where it then drops under the waters of Georgian Bay, rising again to form Manitoulin Island before arching down the western shore of Lake Michigan.
This geography and location made it a very strategic important trading point on based on an ancient trade system. It was also a haven and a stop off point on the way to the west, not just for aboriginal people but also for people who came after.
Although I've vacationed there several times, I've crossed it even more. In July I was back to better understand, experience, and write about its spirit and culture. Read: Experience Spirit Island.
Here are 10 reasons why I'll be back to ride Manitoulin:
The People. The total population of 12,000 swells exponentially in the summer. Little Current (Pop. 2,706) is the largest town, which means charming villages are scattered across the island. There are seven First Nations communities comprised of Odawa, Ojibwe and and Pottawatami, who form the Three Fires Confederacy and are known as Anishinaabeg—the people. The largest is Wikwemikong on the eastern shore (pop 2,592). Wherever you go, you'll be warmly welcomed. They love it when you stop and ask questions about their history and culture.
The Land. It's breathtaking. There's scarcely anywhere you can ride without seeing water. The elevation is constantly changing, seemingly subtly but all of a sudden you'll come over a rise which opens up to a panoramic vista. Above that it's hard not to its spirit, often as tranquility, joy, and connectedness.
The Rocks. Formed from layers of rock that were heaved from the depths of the earth, they jut out to form outcrops and fascinating formations. Heading north from Little Current to Espanola, Highway 6 undulates and twists between waterways as it cuts through ancient bedrock.
Ojibway Cultural Foundation (OCF). Located in M'Chigeeng, the modern complex has grown substantially since its start in a trailer in 1974. Stop by the OCF to browse through the art gallery, listen to teachings, and if you're lucky as I was, watch traditional dancing.
Pow-Wows. Festivals abound throughout the summer. Here's a real chance to observe the culture in action. See the calendar here.
Island time. There are only two ways onto Manitoulin: the swing bridge at Little Current, or the Chi-Cheemaun Ferry into South Baymouth. You'll find you've left worries and cares on the mainland and entered a magical time. You certainly won't find any traffic jams, and the traffic light for the swing bridge is the only one you'll see.
Legends. With its strong First Nation's history, the land is rife with legends explaining not only it's creation, but the history behind land forms such as Old Woman Island in Mindemoya Lake and the Cup and Saucer.
Chi–Cheemaun Ferry—which means Big Canoe in Ojibway. It sails four times daily on the two-hour cruise between Tobermory and South Baymouth during the high season and your wise to have reservations. Motorcycles get on and off first and there are plenty of tie-downs to secure your bike. Besides that, it's relaxing to sit back and enjoy the scenery and even dine. You never know who you're going to meet!
Artists. Drawn by the scenic and eclectic setting, a growing number of artists, working in a variety of media are making the island home. Enjoy their work displayed in small galleries, museums, and at art shows.
Weather. Surrounded by water, hot humid temperatures felt by the rest of southern Ontario are moderated into much more comfortable climes. And there are always lovely breezes.
Plan to visit Manitoulin as a destination. To skim across the surface is to deny your self a precious gift.
---
[ois skin="3″]