The Week in Motorcycle Blogs: Aug. 14 – 21
by Liz Jansen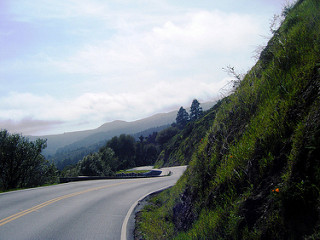 The motorcycle blogs I'm most attracted to and love to share with you are those dealing with safety and the riding lifestyle. Not the 'biker lifestyle' image that pops to mind, but rather blogs that talk about travel, how to manage on the road, and generally how to get the most from our riding experience.
Thus this week's blogs include a great video on how to do a meaningful pre-ride safety check, things to do before calling a tow truck (this can save you a load of dough), and a quick remedy for sun glare. I also love to hear stories from others who are out there doing it! Pushing their comfort zone and embracing an active and vibrant life. That's why I've included Reg Kittrelle's new book about his next 50 years of riding. It's also why I've included the whimsical travels of Rachael, aka Fuzzy Galore. Count on her to have interesting ride themes and a wonderful way of relaying them—in words and photos.
Enjoy!
---
MC Garage Video
"Is your bike ready to ride? You probably think so, but when was the last time you gave it a safety check? Performing a quick preflight bike inspection is an easy way to avoid frustration out on the road. In this video from the MC Garage, Motorcyclist magazine Road Test Editor Ari Henning will show you the steps to take to help stay trouble-free on your next ride. And all you need is a tire gauge and a few minutes time."
---
5 Things to Check Before Calling a Towtruck
Panhead Jim, RideApart
"Let's face it, if you ride a motorcycle, sooner or later you are going to find yourself stranded on the side of the road. Perhaps the only thing worse is watching your bike ride off on the back of a tow truck. So before you whip out your cell phone and make that expensive call for a wrecker, it's worthwhile to take a few minutes to make sure there is not an easy fix that will have you back on the road for free. This easy five item checklist will at least allow you to make a more informed decision before you have to make that dreaded call and if you've found yourself broken down without a phone, it may save you from a long walk."
---
New Book: "Motorcycles and our 2nd 50 Years"—by Reg Kittrelle
John Burns, Motorcycle.com
"Reg Kittrelle's done it all in his first 50 years of riding motorcycles, and he's here to tell you that he's far from over. Riding strong at 72, Reg says, "Riding a motorcycle has nothing to do with how old you are, and everything to do with how old you think you are."
---
A Slick, Shady Helmet Sun Visor on the Cheap
Gary Illminen
"Not so many years ago, a lot of helmets had snaps over the eye port to allow for the attachment of various types of shields and/or a snap-on sun visor.
There are still some helmets available with the old snaps—but I'm not so sure about snap-on duck-bill sun visors that were available.
So, we thought we'd share our technique to create cheap, durable and easily replaced sun visor for modern helmets that is even better than the old snap-on visors, since it does the job without blocking your vision and can't cause any wind noise."
Liz's note: I've tried this, only with electrical tape and it really works!
---
Road Tripping: A Fabulous Pennsylvania Roadside Animal Menagerie
Rachael aka Fuzzy Galore
"Sometimes I will pull up a favorite in my GPS and follow it on a whim.
That isn't to say that occasionally before I arrive at whatever place I'm going to that I don't think to myself, "what the hell are you doing?"
Shortly before ending up at Tim's Secret Treasures in Charleroi, Pennsylvania I asked myself just that. But upon arrival I quickly remembered why I'd saved the place in my favorites to begin with."
---
photo credit: via photopin (license)
---
[ois skin="3″]