Women and Motorcycles: Cindy Walas Speaks
Women Riders Speak is an interview series with female motorcyclists. Through their stories, they illustrate the transformative role motorcycling has played in their life.
Cindy Walas dreamt of owning a Porsche. Instead, this graphic arts professional and her husband found themselves owing three Harley-Davidson motorcycles and riding along the Mississippi River.  Read how she got there.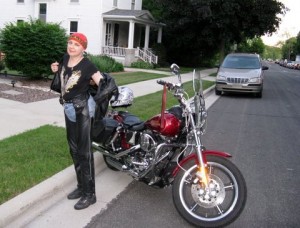 What prompted you to get into motorcycling?
I've always been into cars and auto racing. So my initial "dream" was to own a Porsche, Ferrari or something of that ilk and enjoy that type of driving experience.
In the meantime, a close friend got his motorcycle license and an 1100CC Honda Shadow cruiser. A few rides as a passenger got me thinking that learning to ride and getting a motorcycle would be a better, not to mention more affordable option.
My husband and I enrolled in a Chicago MSF (Motorcycle Safety Foundation) course. If we passed and liked the experience, we would consider purchasing a bike. One bike, with me as the passenger.
That was back in 2003. I'm now fifty-eight and my husband and I each have '04 Harley-Davidson Low Riders, and an '06 Deluxe that we alternately ride.
What was your biggest challenge when you were learning to ride?
The second day on the range it rained, leaving puddles everywhere. I did so poorly on the figure-eight exercise that I pulled off the course and got off the bike. After contemplating my options, I decided to prove to myself that I could do this, got back on the bike and finished up the course.
It was a lot harder than I thought it would be to get out in the real world and ride. It was not until we discovered the       Ride Like a Pro Training videos that I started to relax and gain confidence in myself and my bike.
Where have you travelled on your motorcycle?
My favorite ride so far has been up the Great River Road from Prairie Du Chien to Hudson, WI. Good roads with beautiful vistas of the Mississippi. We've been to Sturgis and would love to go back just to ride the area again, and have spent a lot of time riding up in the UP (Upper Peninsula) of Michigan and the Northwoods of Wisconsin.
I've ridden in monsoon-like weather and been caught by unexpected ice pellets when I went out for an end-of-season lunch ride.
It's great to explore different riding options and go with what you're most comfortable with, be it solo riding,large groups, small groups or rally rides. Over the years, I've found I prefer riding with only one or two other bikes.
What impresses you most about another woman rider?
My friend Jill is an excellent rider – very smooth and steady. She's done a number of thousand-mile trips on her own, for which I have great admiration. I've not taken any solo trips…yet..
What is your greatest joy from riding?
Even though one has to be alert for everything happening around you as you ride, I find it very soothing and relaxing to ride down the road, enjoying the sights, and the sound of my bike. I'm very glad that I stuck with it!