Encore—Following Last Year's Ancestor Trail
by Liz Jansen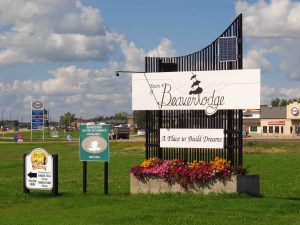 Following up a life-changing motorcycle trip with an encore, especially one that doesn't involve motorcycles, isn't typical. But I expect it to be at least as meaningful. Next Saturday, August 5th, I'll fly out to Alberta with my 91-year-old father. We'll spend a week reliving memories more than 80 years old.
When I first proposed the idea, his first question, before agreeing, was, "How are we going?" He fully expected I meant by motorcycle so was relieved when I said we were flying.
Last summer I spent seven weeks on the road with Trudy, my Triumph Tiger, following what I dubbed the Ancestor Trail. The giant loop through Alberta and Saskatchewan followed the migration paths of both sets of grandparents after they landed in Canada as refugees in the 1920's. I wanted to walk on the land they'd walked. By putting myself in their place as best I could, I hoped to better appreciate their life and choices. Mostly I wanted to understand how their experiences had shaped me—research for Crash Landing, my upcoming book.
I had exact locations for four places, but in spite of searching at municipal archives, was missing details for two farms. Since then, I've obtained documents showing their exact locations.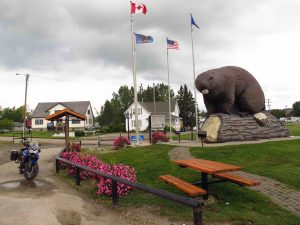 Our first stop will be in Beaverlodge, in Alberta's northern Peace River District. This is where dad's parents homesteaded and where dad lived from birth until age two. That's when his father, age 28, died from Tuberculosis. He was buried in a private, now overgrown, Mennonite Cemetery on the land he had such dreams for. Last fall, the Alberta Genealogical Society unearthed a Probate file, which is how I learned where their land was. I'd been close. Dad was in the area and visited the cemetery around 2000. This is the first time he'll know with certainty where he'd lived.
After that, we'll fly to southern Alberta to continue the trail. From Beaverlodge, his widowed mother took him to a farm outside Beiseker, a small town near Drumheller where she'd found work as a housekeeper. They were there for two years, until she remarried and moved to a farm in Namaka, very close to where I crashed. My experience at both of these places, which were stops on last summer's ride, will be very different being there with my dad.
Mom's parents farmed just north of Drumheller, approximately 120 km/80 miles northeast of Namaka. Last year I'd had to guess at where that land was. Recently I learned my cousin had the original sales transaction so now I can go directly to the farm where my maternal grandparents, with three children, tried to establish their family. As much as she'd love to join us, mom's dementia precludes her from living independently, let alone traveling. She's contributed by recalling snippets of stories from that time that help me understand their life there.
Those are but some of the highlights of what promises to be an action-packed and emotional week. I'll try to keep up with photos on the Heritage Trails Facebook page or my personal Facebook page.
This encore will be at least as engaging as the main performance.