Understanding the Matter of Perspective
by Liz Jansen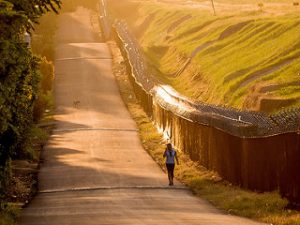 The young couple disembarked from the train, squinting in the bright prairie sunlight. Their clothes, tattered and threadbare, were creased and wrinkled after nearly a month of travel from the other side of the world.
They too were tired and worn. Only days before leaving, they'd buried their 8-month-old daughter. During the past seven years, they'd endured civil war, famine, terrorism, and poverty.
The man scanned the station, his eyes quickly fixating on the figure running toward them. His brother would take them to live with him until they could find a place of their own.
In July, 1924, arriving in Saskatchewan was a chance for my grandparents to start life again in a new country, one that promised peace and freedom. They would have a family, worship, and be patriotic. They would work and contribute to their new community and country.
While they had the highest intentions, not everyone saw them like that.
To those already settled here, often referred to by immigrants as the 'English', they were a threat. In 1919, a Government Order-in-Council edict stated, "Owing to the results of the war, a widespread feeling exists throughout Canada, and more particularly in western Canada, that steps should be taken to prohibit the landing in Canada of immigrants deemed undesirable owing to their peculiar customs, habits, modes of living, and methods of holding property, and because of their probable inability to become readily assimilated to assume the duties and responsibilities of Canadian citizenship within a reasonable time after entry."⁠
By the time my grandparents arrived, Canadian laws had changed to allow railway companies to recruit immigrants from countries previously designated as non-preferred. The resentment, however, remained.
As compassionate as they were, the railway saw them as a means of revenue. Transporting tens of thousands of people filled their ships and trains. Selling off some of the land they'd purchased during the construction of their railway and helped recoup part of their investment.
To the government, more settlers meant 'unoccupied' land could be settled and turned into productive farms, augmenting the nation's economy.
The arrival of more colonists, like my grandparents, deepened the wounds of the First Nations people. After being herded onto Reservations and having their children sent off to Residential schools, they were struggling for physical, spiritual, and cultural survival. Watching helplessly and hopelessly as their ancestral lands were 'settled' by immigrants must have been extremely painful.
Everything we see, the opinions we form, and the choices we make, is processed through our personal filters. Often we don't appreciate the power of the beliefs and myths that live in our subconscious, even though they're calling the shots.
As I write, edit, revise, and rewrite Crash Landing, understanding the matter of perspective becomes critical for conveying my stories in a meaningful way. Not only does it make my writing clearer, it teaches me about myself and the others who share my world.
Understanding the matter of perspective is the foundation for living in peace and happiness.
What's your perspective?
Next week there will be no article as I'm away. Until next time, I wish you health, happiness, abundance, laughter, and adventures.
photo credit: Bernal Saborio G. (berkuspic) folding road via photopin (license)