10 Things to Look for When Buying Motorcycle Gear
No one intends to fall off his or her motorcycle. Yet it happens. Motorcycle crashes killed 4,502 people in the United States in 2010.[i] Countless more were injured.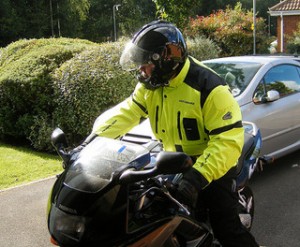 Deaths and debilitating injuries ranging in scale from massive to minor, change lives of riders and those close to them forever. They create a significant economic burden from emergency treatment, health care costs, rehabilitation and loss of work.
Proficient skills, riding alert and riding a bike appropriate to your skills all reduce the risk of an accident. Proper gear on operators and passengers reduces the potential for injury or death if an accident occurs.
10 Things to Look for When Buying Motorcycle Gear
Here's a general guideline of what to look for in motorcycle gear. Subsequent posts will look at specific pieces.
Safety. First and foremost, assess gear for its ability to perform in the event of a "get-off." The safety rating is only the minimum standard to look at. Consider shock absorption, abrasion resistance and its ability to hang together as you slide down the road.
Fit. When trying on apparel, sit on a bike with a riding position similar to yours and assume the riding position. Make sure your movements aren't restricted and the armor (padding) sits where you'll need it if you and your bike part company.
Comfort. If it's itchy, scratchy, abrasive or stifling when you're trying it on, multiply that to understand how it will feel while riding. Especially if you're on a long trip. No matter how hot it makes you look, it needs to be comfortable first.
Versatility. The start-up costs for new riders can add up very quickly. Minimize bulk and look for pieces you can layer.
Ventilation. It gets hot out there. Look for lots of strategically located vents that create good airflow. Consider breathability when selecting rain gear as well. Feeling like you're wearing a plastic bag on top of already bulky gear is very uncomfortable.
Convenience. Think about the conditions you'll be riding in. I have a popular brand of riding pants that work well in good weather. But the waterproof liner zips on the inside. When it starts to rain, I have to stop, take my pants off, put in the liner and continue. More about that when we talk about riding pants.
Fashion. Function and fit come first. But you also want to look good. Look for flattering styles that can work when you're off the bike as well.
Quality. Wind, sun, rain and time are hard on fabrics. Start with the best quality you can afford and the highest degree of protection. Make sure they're well assembled with quality components.
Storage. You'll want to carry extra gear and/or remove layers as weather conditions change. Consider the weight, bulk and how you're going to carry it.
Conspicuity. You want to be seen. Select high viz colors, gear with reflective strips or wear a vest with reflective strips.
While there's no doubt that motorcyclists are vulnerable road users, there's much within your control to reduce your chance of injury. Wearing effective protective motorcycle gear is one of them. How much do you value your life?
---
[i] National Highway Traffic Safety Administration. Fatality Analysis Reporting System: 2010. Washington (DC): National Highway Traffic Safety Administration, U.S. Department of Transportation; 2012.
photo credit: Steve Parker via photopin cc