10 Functions to Look for in Motorcycle Pants
by Liz Jansen
For years, blue jeans were the only type of riding pants I wore. Then I tried real riding pants and now it's rare to venture out with just jeans. The material, functionality and fit of riding pants have come a long way, making it an easy – and safer — decision.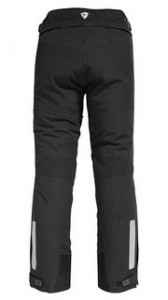 While jeans provide some degree of protection and may be the preferred après ride attire, other choices offer comfort and style with greater protection. Whether you select jeans, leather or textile, consider these features.
Fit. Try on the pants, and then assume the seating position you're in on your bike, ideally on a motorcycle. They should fit snugly but make sure they're not cutting you in half at the waist, bunching up at your hips or behind your knees and that they're long enough to cover your ankles when you're wearing boots. Leave room for extra layers in the cold. Adjustable waists also allow room for extra clothing.
Leg Length. Pants should look too long when standing. Remember, they're designed to protect you in the riding position, not when you're walking around off the bike.
Abrasion resistance. Even a minor tumble can have you sliding down the pavement, often on your butt. That rules out chaps. Kevlar jeans, leather or quality textile pants will protect your bottom half from road rash.
Armor. At a minimum, you need protective padding for your knees. It's a good idea to cushion your hips as well. A proper fit means padding will actually sit below your knees when standing but cover your knees while flexed in your riding position. Although it's sewn into some pants, it will be removable for cleaning in higher quality products. That usually means it resides in a pocket, usually held closed with Velcro. When you're trying them on, note whether your foot gets caught in the pocket.  If it does, you're likely to tear it at some point. All armor is not created equal. Buy the highest quality you can afford.
Ventilation. On hot days, it's wonderful to be able to open vents and let the air flow through. Some pants have mesh under removable sections of textile. The only caution here is to keep those removable parts in a safe location. They're small and easy to loose track of and you don't want ventilation 24/7/365
Pockets. Preferably waterproof with zippers. They're handy for keeping cell phones, ID, receipts, money. While jacket pockets are also useful, jackets come off more frequently for meals, rest breaks, scenic attractions so it's good to have pockets on pants as well.
Quality construction. Riding pants have a variety of fasteners from zippers to Velcro to snaps. Make sure they're high quality and that the pants themselves have been well assembled. Inspect seams, lining and closures for finishing details.
Convenience for boots. Side zippers allow you to put on and remove pants without taking your boots off. It's convenient if you're using the pants over jeans/shorts and want to take a layer off once you've stopped.
Visibility. Whether it's piping or inserts, even your legs play a role in making you conspicuous to others on the road. Reflective inserts or piping picked up by headlights may be the difference between alerting a car driver to your presence and getting hit.
Water resistance. Ideally water proof. Finding breathable, waterproof riding pants at an affordable price is a challenge. I've compromised by choosing good water resistant fabric that keeps me dry long enough to pull over and put on rain gear. While pricier, the superior overall functionality of GORE-TEX®  can't be beat.
Bonus: A Note on waterproof linings. Accept this only as a last resort. I own a pair of otherwise decent riding pants that came with a zip-in waterproof liner. So when it rains, I have to pull over, take my pants off at the side of the road, and zip in the liner and put everything back on. If I don't take my boots off, the liner gets covered in mud when I put it on. If I remove my boots, my feet get wet. The liner keeps the rain out but is like wearing a plastic bag, which is what makes it waterproof. Although there's now a barrier between me and the rain, the fabric is taking on water, getting heavy and uncomfortable.
Once it stops raining, I remove the liner, again deciding if boots come off or stay on. Now soaked by perspiration from the inside, it's a relief to take off. But my pants are soaked from the rain so I stay wet anyways.
My solution: I've thrown out the liner and wear separate rain pants.
Take your time, ask lots of questions and try on the gear. Determine which features are important to you. When a salesperson is trying to close the deal, think through the logic of the features to your own application. You're making a decision about your safety so choose wisely.
photo credit: GORE-TEX® Products via photopin cc