Women and Motorcycles: Renee Wallace Speaks
Women Riders Speak is an interview series about women and motorcycles. Through their stories, women illustrate the transformative role motorcycling has played in their life. In this interview, read how Renee Wallace cut her teeth on California's canyon roads and learned on the country's top racetracks.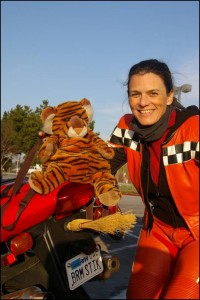 What prompted you to get into motorcycling?
My dad is a motorcyclist. As an only child, I was the one that got to share this passion with him. At first, I was just a pillion, never thinking I'd ride my own bike. This was my dad's thing. It wasn't until I was in my mid 20's that I decided I wanted to learn how to ride a motorcycle.
What was your biggest challenge when you were learning to ride?
My own self-doubt. Once I remembered that I can do anything I put my mind to, I was doing it. If I needed to improve on a skill (and there were many to improve on in those early years), I asked for guidance. I believe that asking for help is one of my more positive traits. If it wasn't for my ability to be humble, I might still be flailing as a novice motorcyclist.
Early on in my motorcycling career, I took an MSF (Motorcycle Safety Foundation) course to help me with some of the basic skills that I felt I was missing from my dad's teachings (our friends and family have good intentions, but there's usually some very necessary skills needed that are missed). It was the best thing I could have ever done. It gave me the foundation I needed to become a better motorcyclist. I took those new techniques and rode like the wind, gaining more and more experience through every mile ridden. A few years into riding, I decided to try my hand at the racetrack (Buttonwillow, Laguna Seca, Infinion and Thunderhill). I attended rider courses and worked with track experts to hone my skills. What a feeling being able to take what you learn in the classroom and apply those new skills to the track. I felt so accomplished!
The experience of riding to me was equal to freedom. Freedom to do something not many women will do, some men won't do and is considered to be on the 'wild' side of society. Once I decided to ride, I rode. I rode all the time. I wanted to become really good at it. With that type of determination, I sold my vehicle and become a motorcycle owner. Funny thing…. When you're insuring a motorcycle and you're a female, you're expected to have a car, or at the very least, a husband, on that insurance policy.
Where have you traveled on your motorcycle?
I mostly ride within a 300 mile range from my home in Silicon Valley,CA. We have some great roads right out of my driveway. In 2008, I did a Edelweiss Tour of Germany,Austria and Italy for the Italian MotoGP Race. It was a two-week ride on a BMW 800ST and the most memorable trip ever!
What impresses you most about another woman rider?
I am impressed by other women riders for their willingness to do something out of the norm. I always get inspired when I see other women who ride, wear proper gear and are smiling. I think they are the coolest!
What is your greatest joy from riding?
In one word, it's the 'camaraderie' with other motorcyclists, male and female. I also enjoy the endless ribbons of road that I ride in California. I think that the worst day riding is better than the best day working.
How do you look back on yourself as a beginner rider now?
I remember the days when I was the last out of the gas station (leaving for a group ride) and everyone always waited for me to catch up.  Those days are long gone. I racked up a lot of miles in the first few years of riding. I just knew that I had to ride, ride, ride.
I love to see other women riders, especially new riders. It just shows me that we are here to stay in the sport of motorcycling.