How to Ride a Motorcycle Across the Country in One Step
by Liz Jansen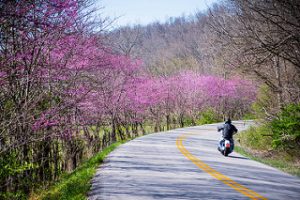 In 2003, at age 49, I walked away from a 25-year marriage and a long-term corporate career. What's a motorcycle rider to do when faced with open-ended time off during the summer? Go for an extended ride, of course.
I closed the office door behind me on August 1. Three days later, I was heading west for two months on the road. There were a few places I wanted to see and people to visit, but within that was lots of leeway. My route would take me generally across Canada to Vancouver Island, south along the Pacific coast to San Louis Obispo, California, and then wind back to Ontario.
"Aren't you scared?" people routinely asked, referring to riding across the country by myself.
It hadn't occurred to me to be frightened. "Of what?" I wondered.
They'd offer a number of reasons, the main ones being personal safety and security, rain, breaking down in the middle of nowhere, and being alone for so long.
Certainly those are factors to consider and prepare for, but they're not showstoppers. I was an experienced and skilled rider, had a new and reliable motorcycle, and was sticking to paved or hard-packed gravel roads. My riding gear, including rainwear, was in good condition. I was riding in countries where English is the primary language so communication was straightforward. I knew how to look after my motorcycle and how to ask for help if I needed more expertise.
Most of all, my heart was asking me to go. The trip was something I wanted and needed to do. There was no reason not to go. Furthermore, I'd have been disappointed in myself had I stayed home.
These prerequisites were no different than what were needed to ride the roads around my home. I had them all. I just had to go.
Rather than being overwhelmed with the thought of two months on the road and all the things that could possibly go wrong, I focused on one day at a time. Dealing with situations as they arose consisted of realistically evaluating the circumstance based on facts, the likelihood it would materialize, and assessing the potential severity. Based on that, I made my best decision.
Before I knew it, I was across the plains, through the mountains and at the Pacific coast, and ready to head south—having the time of my life!
Anything you're called to do will bring opportunities and trials. You won't know the details of either until they happen, and then you draw from within to meet the challenge. That's how we grow.
Here's the key. All we ever need to do is take one step—the next one.
Then it's just like being able to ride a motorcycle across the country to the Pacific. You'll look back from a new place of strength and wisdom and wonder what all the fuss was about.
How do you deal with self-doubt? Tell us in the comments.
Related Posts:
---
photo credit: sniggie Riding redbud road via photopin (license)