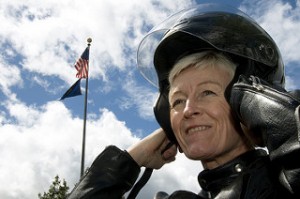 That Tricia Szulewski's article about How to Ride Your Street Motorcycle in Gravel appears in this week's five favorite blogs is no coincidence. Since returning to riding, it's one of my greatest fears when riding. I wrote about my experience this week in Managing Gravel and Crushing Fear.
New and experienced riders alike can take lessons from the safety articles below, including not riding off-road alone. Our sport is exhilarating, but it comes with risks. They're readily managed with skill, practice, and making wise choices—something that arises from the first two.
As the owner of a new Triumph Tiger XRx, I could resist adding the article on things motorcyclists can't do without. It's amazing how far technology has come – and what a difference it makes.
Enjoy!
---
How to Ride Your Street Motorcycle in Gravel
Tricia Szulewski Women Riders Now
"At some point in your street motorcycling life you'll find yourself faced with riding in gravel. Roadside pullouts that are not paved and road construction are the two most common scenarios where you'll encounter loose rocks and/or dirt and sand.
Another common gravel scenario (one where you could kick yourself for not asking about ahead of time) happens when you've arrived at that cute B&B or lodge where you had planned to stay only to be faced with a long, deep gravel driveway!"
---
Use Your Imagination: Predict Hazards and Create a Plan to Avoid Them
Nick Ientsch, Cycleworld
"Each moment of every ride calls for a recalibration of the five priorities we will list in this series of articles. These "Top Priority" Ride Crafts aim to get street riders aware of the most important aspects of surviving and enjoying street riding.
Each of the five priorities will rotate in importance during every ride. In the following few paragraphs, we'll discuss your imagination and place it third on the list of street-riding priorities. Or maybe it's first?"
---
Mistakes New Riders Make in the First Six Months
By Amos, RideApart
"Your newfound fascination with motorcycling has you chomping at the bit to get out and ride until your glutes can't take it anymore. And then you want to go out and do it again. Nothing can come between you and the open road, or any road for that matter. You're a beginner motorcyclist, and you'll never grow tired of this two-wheeled passion. But heading out for a ride without really thinking about what you're getting yourself into is asking for trouble, or worse, a trip to the hospital or a permanent dirt nap. There are a bevy of stupid mistakes new riders make in their first six months, and they're not nearly as obscure as you might think. We've compiled a list of the most egregious and detrimental mistakes, and it's not a terrible idea for you seasoned riders to review it too."
---
A Hard Lesson about Riding Off-Road Alone
Sasha Pave, RideApart
"RideApart recently lost a friend—school teacher Ed Cavanaugh. Sasha Pave sent us this short story after first learning of Ed's disappearance and told us how riders came together for the search. It was sad news, but there's something to be learned from the experience. Here's Sasha's story:"
---
Ten Things Motorcyclists Can't Do Without
Blake Conner, Cycle World
"Motorcycling is changing at a breakneck pace. Technology is the driver and we are the lucky recipients. Unless your motorcycle and gear is relatively new, less than , say, five years old, you're missing out on this wave of advanced features and apparel. Here are 10 things that we've been spoiled by and can no longer live without. What's next? We can't wait to see what the future brings."
---
photo credit: Darlene gears up before her ride via photopin (license)
---
Did you enjoy this article?
Subscribe to receive our weekly newsletter!
You'll also receive a copy of 50 Moto Gadgets and Gizmos!