5 Great Blog Posts from Last Week
by Liz Jansen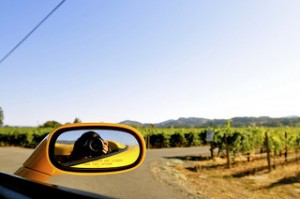 Today's collection of favorite blogs from last week covers a range of topics, selected to inform, educate, and entertain! And enhance your ride in some way.
Read about an innovative cross-country jaunt by five women riders living life on their terms. There's a new gadget and gear to make warm weather riding more comfortable—and safe. Also a detailed review of what to look for in helmets. Lastly, another post for new riders. You've got your license. Now what?
Enjoy!
---
Tom Roderick
"The Highway Runaways Ride is inspired by the infamous Avis and Effie Hotchkiss ride in 1915, when the mother and daughter became the first women to ride their Harley-Davidsons across the U.S. Lana MacNaughton leads a modern day celebration of how women riders are unleashing their rebellious spirit and living life on their terms.
Distinguished for her "Women's Moto Exhibit," MacNaughton is leading four of her closest female friends on a cross country Harley-Davison motorcycle journey, starting July 3, when she kicks off the ride in Brooklyn, New York. This four-week tour will end in San Francisco."
---
Tom Roderick
"Beginning in Spring and ending in Fall, the motorcycling season basically exists during the warmest time of the year. Staying cool while operating a motorcycle during these months heightens the experience by increasing a rider's comfort. Maintaining a healthy temperature also increases a rider's safety. We covered the obvious ways to keep your temperature in check with our Warm-Weather Buyer's Guides for Boots, Jackets and Pants, Gloves. Here we look at a few additional, but no less important, ways to manage your personal thermostat.
---
"Motorcyclists understand the concept of being able to do more with less—specifically, how to be able to carry more tools in less space. This is true whether most of your riding is around town or around the world. So, we tend to have an affinity for ingenious compact multi-tools of all types—and in general, the simpler and more compact, the better.
Gerber, the company well-known for its rugged, razor-edged hunting knives and other outdoor gear has one of the simplest multi-tools on the market called the Shard."
---
Evans Brasfield
"We've all been there. Really. We were new riders once. We understand where you're at: You've just bought your first motorcycle. You're all excited to be riding your new (or new-to-you) bike home, you park your bike and stand back to admire it – and then it hits you: Now what do I do?"
---
Marc Lindeman
"When it comes to motorcycle helmets, plenty of riders get all wrapped around the axle discussing helmet laws. We're smart enough not to wade into that mess, but our opinion is that no matter what the law says, you gotta protect your coconut, and that means wearing a helmet."
---
photo credit: golden napa via photopin (license)