Going Carless
by Liz Jansen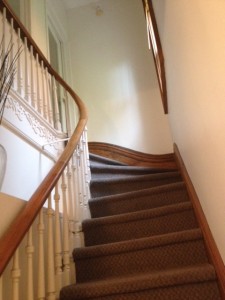 Winter in small-town Ontario isn't typically the time to experiment with going carless. Not when motorcycle transportation is generally out of the question for at least a few months. But I've decided to try it.
Now that I'm back in Orangeville, the second order of business after healing, has been to find another place to live, and location has been a key factor. I've been fortunate to stay with friends while I search and reacclimatize to life without wheels.
It's been quite a change in mindset to go from an open-ended motorcycle adventure and living and working from the road, to being grounded. Literally. I've gone from feeling free, independent, and mobile, to being much more dependent and sedentary, with a whole new set of priorities. I sold my car in anticipation of an extended absence, and now am without either a car or a motorcycle—traditional symbols of independence. For that matter, I've also had to find a place to live.
Given that things are in a state of flux anyways, I've decided to add a bit to the mix and experiment with going carless. It's an opportunity to go one big step further in living simply. I'll be getting another motorcycle in the spring, and I'd like to see if I can get through the winter using alternate transportation.
I'm pleased to say that with a minimal amount of angst, I've found a place that may allow it. Rather than being in the country where I've lived for the last 25 years, another change, I'm now in town. I'm within easy walking distance of downtown, restaurants, a grocery store, a health foods store—and physiotherapy. There's both a local bus stop and a GO stop, which connects me with Toronto and area's massive rapid transportation network. Less than two blocks away, is a car rental agency with extremely reasonable weekend rates. And there are always cabs.
Most importantly, I love my new place which I'll move into on Monday. It's a completely modernized unit within a refurbished redbrick Victorian home on a lovely lot with huge old maples. It's got the ambiance of simpler times, with the convenience of today. The big windows allow in lots of light and the energy is wonderful. It's a delightful place to restore body, mind, and spirit, and nurture creativity.
Living out of dry bags and motorcycle luggage is fine when you're on a motorcycle journey, but it wears thin when you're not. I'm looking forward settling into the new digs, of course getting Measha back with me, and seeing what this Road of a different kind brings me. One certain thing is that with all the walking I'll be doing, I'll be fit to ride that new motorcycle come spring!