10 Causes of a Motorcycle Tip Over
No one wants to have a motorcycle tip over. Balance can be a precarious condition, especially under slow-speed conditions. Allow weight to shift too much in one direction and you lose it. In a lifetime of riding, I've experienced them all. I've helped many right their bikes and seen countless more in undignified positions on their side.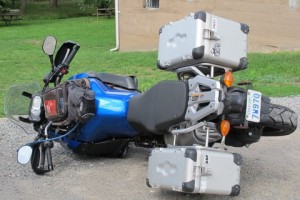 Motorcycles are designed for moving under engine power, not being pushed around. Anyone can stay upright under speed but real skill is required for adept slow speed control.
Depending on the center of gravity deigned into the bike, some are easier to balance than others. Cruisers have most of their weight low and the correspondingly low seat heights means most riders can comfortably reach the ground. Dual-Sport and Sport Bikes need higher ground clearance so their weight and seat height is higher, making them tippier at slow speeds.
Even when we get to know our bikes and how to maneuver them, a split second of inattention can lead to a tip over.  I pulled into a parking lot at a historic mill to take a photo and knew as I was parking on loose gravel on a downhill grade it was a bad idea.  I took my photo but then found it next to impossible to back my bike out of the spot. I summoned all my strength and moved it about 18″  uphill. Knowing it was futile to continue, I put the sidestand down, leaned it over, realizing as I did that the sidestand wasn't fully out. The bit of a grade and the loose gravel combined to make it unstable and it gently lay down on it's side. The photo below shows how it was resolved.
Here are ten common reasons bikes tip over:
Forgetting to put the sidestand down before dismounting.
Stalling and losing your balance.
Losing your footing while at a stop. Loose gravel, sand, an oily surface, or a simple pebble can cause this. So can putting your foot down in a pothole.
Sidestand sinks into hot pavement and no longer supports the bike.
Leaving it running while on the sidestand on an uneven surface. My previous bike was carbureted and needed to be warmed up. I left it running while on enough of a downward slope that it vibrated forward, the sidestand came up and over it went.
Improper technique while putting the bike on or taking it off the center stand. It can also happen if the bike is on the center stand on an uneven surface. Or hot pavement.
Applying the front brakes during a slow speed turn.
Stopping suddenly and losing your balance.
Losing good judgment due to fatigue.
Improper technique and/or losing footing while moving a stopped motorcycle.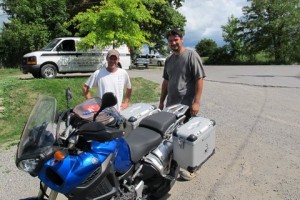 Fortunately for me, these good Samaritans passed by and stopped to help.  The guy on the right picked it up like it was a bicycle! The photo gives you an idea of the grade I was fighting against.
Tip overs happen but if they're happening too often, you need to step back and assess your skills. Learning to manage your bike takes time, persistence and patience. Even so momentary lapses happen –even to experienced riders. So when it happens to you, learn from it and avoid a repeat.
Related Posts: 10 Things to Do With a Dropped Motorcycle and 10 More Reasons Motorcycles Tip Over