24 Rider Season Highlights
The year end is good for reflection – celebrating wonderful memories and chalking up lessons learned. What was the highlight of your 2012 season?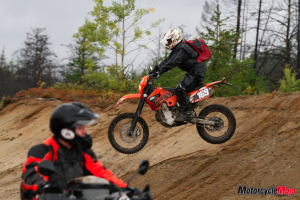 We posed the question during a recent chat I facilitated on Motorcycle Mojo Magazine's FaceBook page.) Here's what these riders recall. Add yours in the comments below.
24  Rider Season Highlights
Noel H. Finishing the Three Flags Classic. (This year it started in El Paso Texas and finished in Nelson BC. It was run over the Labour day weekend. There is a website.)
Tom M. Visiting the Harley Davidson Museum.
Mary M. Riding with Rania R Madanat and Sue Knight.
Mark K. Motorcycle trip to Alaska followed by the purchase of my R1200 GS and meeting Ted Simon.
Glenn R. Writing on Mojo's wall, lol And visiting the Reynolds Museum in Alberta.
Pam B. First ride on a friend's bike after being released from hospital after my motorcycle accident. The feeling of freedom and elation with no fear. What a relief!
Rania M. Cheers Mary Murphy that was that best and I'll never forget it!
Pam Beatson Already anticipating next year's highlights! Maybe on a ride with you!
Liz J. You're on Pam!
Rania M. Another highlight to my year was meeting Liz Jansen in Carson City and all the other wonderful women riders such as; Carla King, Joanne GearChic Donn, Sandy Kron Borden.
Mary M. Lucky you! You met Mary McGee too, correct?
Mary B. Pam – hope you are fully recovered and have a great 2013 season
Mary B. Liz, we didn't ride together at all this year! Will have to make up for it next season.
Mike P. Getting my son into riding off road, and after WAY TOO LONG, gettin my sorry but back into it and lovin it!
Sandy B. Sorry I wasn't able to participate in Motochat today. Rania R Madanat, you were also a highlight.
Rania M. Yes.. and Mary McGee…the highlight of the event!
Sean K. Winning the sportsmanship award in the Atlantic Roadracing league.
Stuart H. I rode to Louisville Kentucky (Interstate for 2 days) for a conference and then took a week to ride home along the Blue Ridge Parkway. Honda ST 1300.
Dave T. End of September trip to Watkins Glen with my missus, 350 kms in the rain!
Kevin G. One ride in particular (weekend trip) to a cottage with 4 good buddies who have all returned to riding motorcycles. Every single one of them, an old friend of at least 35 years !
Danielle D. Having my Dad's pic in Motorcycle Mojo Family Jewels. Thanks again MM!!!!!!!!!!!!!!
Wayne Jr N. Would have to be while riding in the Kelowna area…I think it was called Westside Rd? Narrow, twisty, Lake Okanagan down the drop off to the right, and mountains on the left…BEAUTIFUL!! The ride to Penticton was pretty nice too.
Cory D. So many rides….but the best one this year was a trip my son and I took. Rode from the Ottawa Valley to the Muskokas, around Georgian Bay to Tobermory then across to Manitoulin Island, Sudbury and back home. Lots of great riding in Ontario.
Barbara W. Motorcycling tour to Maine in September – definitely !!!!!!