Women and Motorcycles: Mary Barry Speaks
Women Riders Speak is an interview series about women and motorcycles. Through their stories, women illustrate the transformative role motorcycling has played in their life. In this interview, Mary Barry relates how a working mom with two young sons discovered the joys of riding, and found a rare place for solitude.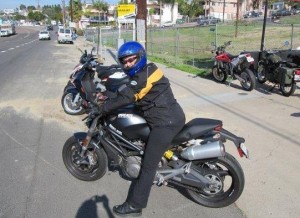 What prompted you to get into motorcycling?
I can barely remember a time when I didn't have at least one motorcycle around me. My older siblings shared a step-through Honda that I snuck rides on when I was barely old enough to go to school. I loved rides from neighbors' mini-bikes – the kind that had those big fat tires and only sat about two feet off the ground. I actually had my feet on the gas tank, gripping the handlebars in the center while the rider had his arms on either side of me to operate the bike. I can still remember what the entire neighborhood looked like from that view – I suspect that view and the other sensory feedback I got from those rides stayed with me way beyond childhood.
At age 37, I was helping my sister as she started a motorcycle touring company and thought it was a good time to get my license. I told myself I was doing it for her – i.e. helping her out by becoming a rider and lending credibility to myself and her. In fact, I was eager to finally become a rider and operate a bike on my own.
What was your biggest challenge when you were learning to ride?
The only flack I got was from a few friends that suspected I was going through a mid-life crisis. These comments didn't deter me at all. In fact, I started to theorize that the reason people have these kinds of crises at all is because they aren't doing the kinds of things that they have always wanted to do.
I got the adrenaline rush I expected but I also got a surprise. At that point in my life I was loving life as a stay-at-home mom of two and four-year old sons. As much as I enjoyed being with them, I craved solitude and silence. Ironically, riding my motorcycle became my quiet time – focusing only on the road, losing myself in random thoughts and just being alone.
Where have you traveled on your motorcycle?
Shortly after getting my license, I joined others on a 1,000 kilometer weekend backroad trip from my home in Niagara to Pointe Pelee. Since then I have travelled solo around southern Ontario, into New York State and Pennsylvania. At one point my work took me to San Diego. I rented a Ducati for a day and rode into the San Bernadino Mountains, skirting the Mexican border – an amazing ride with incredible views. A few times I considered that I was in the middle of nowhere, with the potential for plunging off any of the million switchbacks and no one knew where I was. But I continued and now look back on that ride as one of my best.
What impresses you most about another woman rider?
It's great that there are so many other ladies riding. A few of my girlfriends have gone for their license and they all face the same challenges that any guy would– i.e. fear of failure, fear of dropping a bike and fear of not mastering the controls. It's inspiring to see them master that!
What is your greatest joy from riding?
Solitude. I am a working mom who would be considered to be a classic example of someone in the "sandwich generation." In other words, I am between young kids and aging parents. Once I know that everyone is looked after, riding is a great opportunity for some "me" time.
How do you look back on yourself as a beginner rider now?
I am happy that I went through the process and that I now have my full license. As with anything in life, new things usually leave you thinking that you may never really be great at it but then you get it and confidence builds from there.