11 Riders Caption their Summer Moto Travel Plans
Riding season has arrived not only on the calendar, but also with more seasonal temperatures. During this week's Facebook chat with Motorcycle Mojo fans, we talked about the rides for the season, and asked how riders would caption their moto travel plans.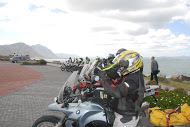 Here for Freedom Friday, is a light-hearted look at their answers.
Mark K. Spontaneous, with a couple of routes planned through the Cascades loop in WA and the usual trip to Nakusp BC in the summer!
John O. Awesome. Liz..it is where I've already been! Florida for Bike Week including the Daytona Loop, Tennessee (Chattanooga Ruby Falls) & North Carolina for my first ride on the Dragon!
Brad G. Some people do Iron Butt. We do Plastic Ass. There is just no way I'm doing 1000 miles in one sitting. Lol. We are riding around Superior for 9 days in July.
Brian B. Vein clogging.
Brad G. Scenic.
Tim M. Undecided.
David B. Go for it! From Belleville, Ont to the coast of Virginia and North Carolina – rode the BRP and the Dragon last year.
Karen G. Free Spirit.
Kevin S. Well since it's my first season, I love my bike and can't get out enough. As much as I can and be casual and learn.
Garth W. 'Round the Lakes. Going to circumnavigate the Great Lakes.
Noel H. Follow the sun. Avoid the clouds.
For the record, mine's "Uncharted Territory." We'd love to hear from you. How would you caption your summer riding plans?