Feel Good Friday Story
Feel Good Friday and Motorcycle Serendipity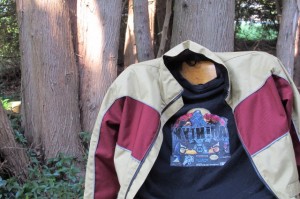 One of the great things about riding motorcycles is their penchant for introducing you to  unexpected experiences and amazing people. Like Michaela and Stef.
A summer Saturday evening found me in Toronto's Beach neighborhood visiting a friend. While that too was most pleasant, it was what happened afterward that had me marveling.
Gearing up for the ride home, an engaging young couple out for a Saturday evening stroll approached me, his eye obviously caught by my bike. My Ténéré, while only recently introduced to North America, has been popular in Europe for years. Originally from Greece and an enduro racer, it was a familiar sight to Stef and they stopped to talk. Or maybe better put, he stopped to check out my bike.
While he circled, inspected and asked questions, Michaela, who grew up not far from where I live, and I chatted like long-time friends. She had a riding jacket she no longer used and offered, "Would you like to have it?"
"Sure," I responded and agreed to meet them at their home. I actually needed a lightweight riding jacked for my upcoming trip to the AMA International Women's Conference in Nevada. He went in to get it and came back with like-new, high quality jacket (in my size and colors) and a T-shirt commemorating a trail ride on his home island in Greece. I autographed and gave them a copy of Women, Motorcycles and the Road to Empowerment.  Everyone was delighted!
It was one of those serendipitous exchanges that motorcycle life is famous for. I may never see them again but I will always remember the joy of that meeting with two very special people.