5 Principles for Staying Grounded
Enjoy this excerpt from Life Lessons from Motorcycles (LLFM), 75 Tips for Staying Grounded, the next in the LLFM series. Download the entire ebook for free.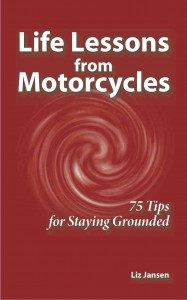 The following five principles form a solid foundation upon which to establish a practice that keeps you grounded, balanced, and living from a place of power.
View grounding as a foundation. Being grounded is really the foundation from which all other riding experiences evolve. Acquiring the necessary technical, physical, and mental skills, combined with a healthy attitude, bodes well for many years of amazing riding experiences! Keeping body, mind, and spirit grounded and balanced is essential to your physical, emotional, and spiritual well-being. During times of change, it's particularly important to make sure you're looking after yourself.
Stay in balance. It takes time and practice for new riders to learn how to maintain balance in the myriad of situations they'll face on the road. In life, it can seem that time is passing by so quickly that you can't keep up with all the demands on your energy. These are the times when you need to stop, put your foot down to maintain balance, and re-establish grounding before you proceed.
Take a holistic approach. Your motorcycle contains a number of systems, including electrical, fuel, exhaust, and suspension. All systems need to be fully functional and maintained for the motorcycle to operate safely and at full capacity. At the most basic level, you have both spiritual and physical needs. Both need nurturing for you to remain grounded and centered in who you are.
Pay attention to feedback. You sharpen your skills through third-party feedback—be it an instructor, another rider, your motorcycle, road conditions, or your own sense of awareness. Friends, colleagues, and teachers are all sources of constructive feedback in life, whether it's directly or through their role as mirrors. Being open and receptive helps you grow personally and professionally. Conversely, even well-intentioned advice can be ill-advised. Your intuition has an excellent filter for detecting good advice from bad. In any case, remain grateful that others care enough to comment.
Acquire and maintain appropriate skills. Enjoyment and safety are inextricable. A good grounding in technical skills and operating within your skill level sets the stage for the most pleasurable experiences. Learn from a qualified instructor. Learning any new skill, especially if it involves your safety, takes time to research and develop. Shorten the learning curve for any new venture considerably by seeking counsel from subject matter experts.
Download the entire ebook for free – for one more week only.