5 Reasons to Take a Dare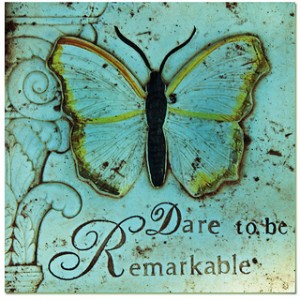 Andrea Coleman, Co-founder and CEO of Riders for Health says that the worst thing you can do to a social entrepreneur or a motorcyclist, if you don't want something done, is to dare them, or tell them it can't be done. That's how she ended up co-founding Riders for Health, a social enterprise that now touches 14,000,000 lives in Africa. They told her broken down motorcycles in Africa wouldn't run. "Why not?" she asked. "They run everywhere else. Why can't they run in Africa?
Maggie McNally Bradshaw was told she wouldn't be able to learn to ride a motorcycle because she was a girl. She not only learned to ride the next week, but she's now an MSF instructor—and the Board Chair of the American Motorcyclist Association.
Deb Grey was a schoolteacher on an Indian Reservation in northern Alberta when someone challenged her to go into politics. She went on to make Canadian history—numerous times—throughout her 15 years of public service.
Laura Klock accepted a challenge to race at Bonneville—and the rest is history. On her first time out, she set a national land speed record on a bike, making her the pilot of the first "World's Fastest Bagger". Each year, Laura has returned to Bonneville and improved her own record, and has no doubt been an inspiration to her daughters. Laura, Erika and Karlee are the first mother-daughter-daughter trio in history of land speed racing to hold records at the same time.
Those who dare us are often seeing a part of us we fail to notice. They reflect our strengths and challenge us to grow. Naturally, you'll feel resistance, but your inner guide will know when these messages are serious and a cause for action. It's important to listen to these messages.
The most important dare however, is daring to be who you are, and living that to your full capacity. Parker Mantell, challenges us to dare to do what others have doubted you can. His stuttering made him an unlikely candidate to deliver this year's commencement address at Indiana University, yet he has overcome that notion that those with disabilities are to remain disabled. Read an excerpt from his inspirational message.
Sure it feels uncomfortable to push the envelope or follow your heart when it's leading you against the grain, but think of the alternatives. Would you rather live a life of mediocrity?
Next time you a door to opportunity opens in front of you but uncertainty or doubt create resistance, summon your courage and cross that threshold. You'll learn new things about yourself, grow, and inspire others to challenge their limiting beliefs. I dare you!
photo credit: Leonard John Matthews via photopin cc