ATGATT: Merely A Starting Point
by Liz Jansen
Anyone who rides a motorcycle has heard of the importance of ATGATT (All The Gear All The Time). Whether you adopt it into practice is a personal choice. While I've always been an ATGATT rider and advocate, my recent accident has reinforced the importance of suiting up with high quality, properly fitted gear. While covering up when riding is a wise decision, all gear is not created equal, and your choice in gear can make a significant decision on how well you're protected.
In preparing for my travels to South America, my strategy was to have the best possible gear with the highest functional value, in the fewest number of pieces. After all, space is at a premium. That strategy paid off in spades.
Here's what I was wearing from head to toe, and how it performed.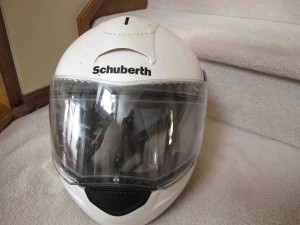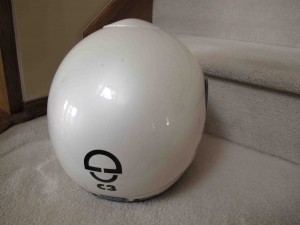 Schuberth C3W helmet. In reality, I don't know how many bangs my helmet took. I know that I bounced and slid on gravel before coming to an abrupt stop, but you'd never know it to look at my helmet. There's barely a mark on it and I did not suffer a head injury. Because it was properly fitted, it held my head firm so there was no bloody nose, cut lips or loose teeth. I wanted to get it off as quickly as possible but with a broken left shoulder and a dislocated right thumb I couldn't do it by myself. It's so easy to get on and off, I was able to give brief instructions to the Good Samaritan who stopped to help and remove it in no time. I will however replace the helmet. Schuberth has an excellent Mobility program whereby if the helmet is damaged in an accident within a certain time frame, you can replace it for just $300USD.   

BMW TourShell jacket and pants. I selected this riding suit for it's combination of function, fit, versatility, and looks. I've been super impressed with how it performed under regular riding conditions (Read my review on Women Riders Now) and astounded at how it performed under duress. Of course pants and jacket picked up scuffs and dirt, but there are no tears or abrasions in the fabric. A minor abrasion on my left hip resulted from skin rubbing against my base layer, not the road. The exterior's abrasion resistance, the high quality, well designed and strategically placed armor took most of the impact. Obviously no amount of padding can provide 100% protection when you take all your weight on one shoulder.
BMW gloves. It was a cold start to the morning so I was wearing the ProWinter gloves. There's a superficial mark where my thumb hung onto the throttle, but otherwise, they're like new, with lots of function left in them.
BMW boots. The ProTouring 2 Ladies Boots offer significant foot and shin protection without sacrificing comfort or movement. My feet were completely unharmed—no bruises, strains or sprains. (Read my review on Women Riders Now.)
AltRider crash bars. Although I've had my bike for three years, I only put the engine guards and skid plate on just prior to departing for my trip to South America. No one plans to crash, but I thought it prudent to protect from tip-overs, given the unknown terrain I'd be navigating. I won't be without them again. This happened in my home country and I'm told that they saved my legs. Because I was riding on deep, loose gravel, I was standing the whole way on that road. I stayed with the bike until it stopped, when I was easily able to scramble out from under it and climb out of the ditch to hail a passerby. Bars on both sides of my bike sustained significant damage but they did their job in protecting me and my bike's engine.
Touratech panniers. Although not officially protective gear and fabricated from aluminum, they stopped the bike from going over completely on its sides. The mounting frame was bent and one pannier was completely pulled off and thrown away from the bike, but along with the engine guards, they provided secondary line of defense.
Budget is always a constraint when purchasing gear and accessories. I prefer to have fewer, higher quality than a wardrobe of gear with token protection. There are many brands other than those listed that go above and beyond the minimum requirements. Making sure they fit properly can be even more important than their protective qualities.
Riding a motorcycle can be risky business, but there are a multitude of ways to mitigate that risk. Allocate your purchases wisely and go above ATGATT. Hopefully you never have to test it, but if you do, you and your family will be thankful for that decision.